Olympic Dreams: Goals for Gold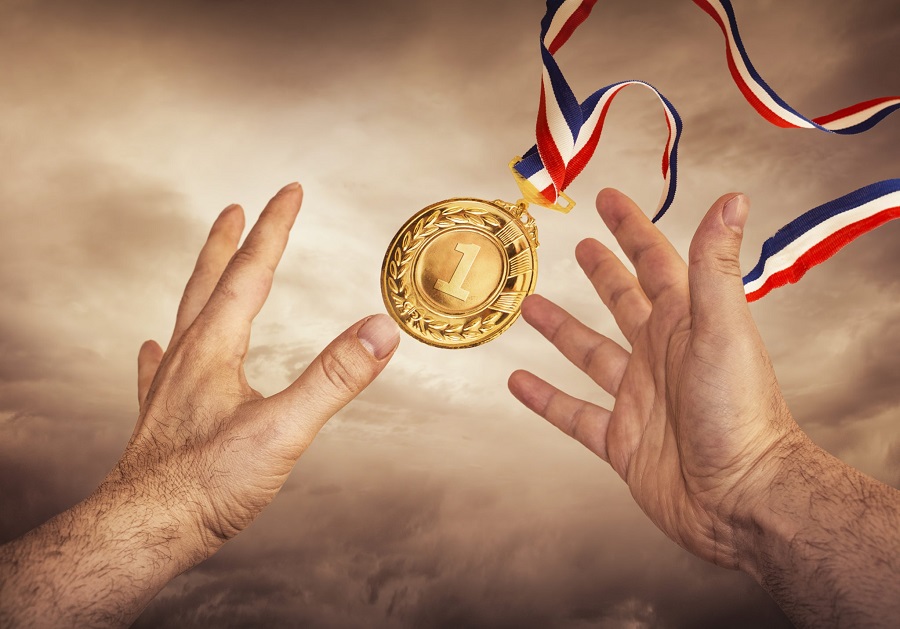 By Esther Kosofsky, Longmeadow, MAKosofsky
Essays 2016
MyLife Essay Contest 2016
For as long as Terry remembered, she had one dream; one goal in life. Terry wanted to be an Olympic athlete. Terry loved to run and as a young girl, she would train, running around the neighborhood no matter the weather, hot or cold, dry or rainy. Terry built up her skills and endurance and by the time she reached high school, she easily made the track team. She enjoyed long distance running, sprinting and even hurdles but most of all Terry excelled in the relay races. There was something about the team feeling, working in a group together with her friends, waiting to run her leg of the race knowing that she was part of a greater whole that convinced Terry to concentrate on the relay race as her specialty. Taking the baton firmly in hand, holding it as she would run and proudly pass it off to her team mate to continue the contest, yes, Terry found her place, her niche as a relay runner.
Terry's high school team performed well enough to make it to all- state and. It was there in her junior year that she was noticed by college and Olympic scouts alike. When Terry came home from high school in the fall of her senior year to find a letter from the college of her choice, she burst out in tears of joy when she read that she received a full track scholarship; Terry was on her way to fulfilling her life's dream.
Terry continued to focus on the relay during college and in her last year; she was invited to the Olympic tryouts, to compete with her team in the 5 x 5 relay. Terry was so proud and nervous; was she ready for this ultimate test? She was about to enter the part of her life that she dreamed of and planned for since youth; would she succeed?
Terry's family joined her in California for the competition. Top college athletes from around the country were invited and everyone knew what was at stake. Win and go on to represent the United States at the summer games; lose and go home to more training and the hope of being invited another time. Terry was not even entertaining the thought of not winning, she was prepared, she was driven, she had her goal firmly set in her mind. For Terry, this was her moment to shine, her chance to reach for the Olympic gold.
As she warmed up with her usual routine of stretches, Terry noticed the cable sports networks that were setting up their cameras – ESPN, FoxSports and some local sports van, all prepared to cover the races. Terry saw the coaches and scouts from the Olympics setting up their equipment, laptops, stop watches and cameras to record and take notes on the various teams as they competed.
After a very tense morning of waiting, it was finally time for Terry and her teammates to line up for their race. As Terry made her way to her position, all of her coaches' words of advice and encouragement played in her head – 'stay focused', 'stay within yourself', 'keep your eye on your teammate and 'stay with her stride until she reaches you' and 'keep a firm grasp on the baton until you hand it off'. Terry finished her stretches, took a few deep breathes and got to her position. Time seemed to rush ahead and before she could even take in the moment, her teammate was upon her with the baton, Terry reached for it and held it firmly in hand and took off.
It was at that moment, with baton in hand, that Terry's mind began to wander, she started thinking of what it would be when she made the Olympic team, maybe she would be the team captain and after they won she would stand center stage to receive her medal. Terry snuck a peek at the Olympic coaches to make sure that they were watching her race. She noticed the cameras were on her from the cable sports channel and as she turned her head to see if she recognized any celebrities in the stands, she thought to make sure that her hair was still neatly pulled back and neatly in place. And that is when it happened, Terry, the young woman with the once in a lifetime chance to achieve her ultimate goal, lost her concentration and felt the baton drop from her hand and hit the track. There was no place to hide, no hole to climb into, no retake. Terry bet down to pick up the baton and continued to her teammate but it was too late, Terry's dream was gone, her hopes were shattered and her life's goal was over.
Terry is symbolic of the Jewish soul. As it is discussed in Tanya, the Jewish soul figuratively trains for its journey to earth. The soul has a clear goal, a firm grasp of what it is expected to do on earth and the soul is well trained for its mission on earth. Right before its descent, the soul is coached and reminded of its responsibilities and obligations on earth. "Be a tzaddik and don't be a wicked person". This advice and admonition is the culmination of the training that the soul receives above: the final words that carry it to earth.
What happens next is the history of mankind, the blessing and the curse of Bechira Chofshis, of free choice that Hashem grants us. We allow ourselves to be distracted by our surroundings, our earthly desires and our mundane dreams. We have been coached by the Divine, taught by the Celestial teachers and brought into this world by the grace of Hashem and now it is up to us to keep focused on the final pearls of wisdom we were given before birth, 'stay focused and hold onto the baton.
We receive the baton upon birth; it is our link to the chain of Jewish history that is entrusted to us to fulfill our role, our leg in the race of mankind. We have to hold the baton, and then, pass on the baton to the next runner, the next generation of the Jewish experience. As we go thought life, we fill our baton with Jewish knowledge, with Jewish wisdom and learning, with lessons gleaned from learning and living a Jewish life, a Torah life. We hold the baton of Jewish experience firmly in our hand knowing that the next generation needs our guidance, our life experience and our nurturing to be able to proudly continue the Mesora- the unbroken chain of Jews.
How do we ensure that the baton will be filled with the proper message to pass on to our children? What must we do to keep from being distracted along the way? The answer is clear yet not easy. The world that Hashem created is filled with distractions, temptations and opportunities to give in to our weaknesses. What must we do in order to stay focused? There are no easy solutions or quick fixes; we must be dedicated to living a Torah life of study and practice. We must commit ourselves to learning, whether alone, with a study partner, enrolling in a class, learning on-line. This is not easy, it requires dedication and commitment yet Jew that doesn't feed his or her soul with Torah study and observance is not well equipped to meet the challenge of the race of life.
What about you? Wanna race?